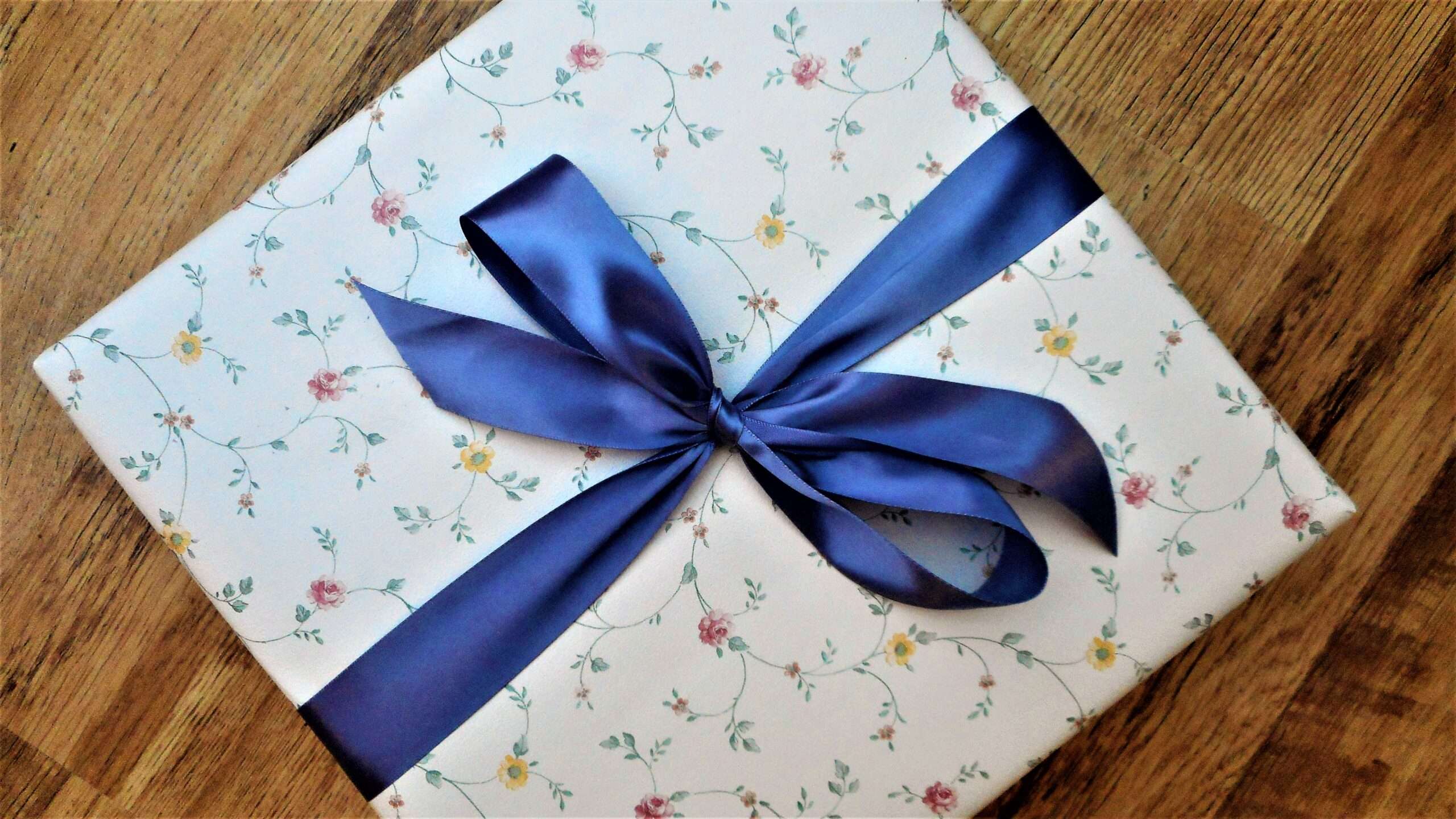 Some dislike it; many enjoy it. Whether you are a gift-wrapping genius or not, no one can deny that receiving creatively covered presents builds up the excitement of discovering the surprise inside.
It is believed that enclosing items this way began in the second century in Ancient China where paper production originated.
The Victorians delighted in this pursuit, securing parcels with twine and sealing wax. Rich folk favoured thick decorated papers, but by the era's end, tissue paper was easier to manage, while the middle class used brown paper.
Modern gift wrapping flourished at the start of the twentieth century. In America 1923, Joyce, Rollie, and William Hall founded Hall Brothers Incorporated and produced greetings cards. Patterned wrapping paper followed soon afterward. This was the beginning of the Hallmark business known worldwide today and is still led by members of the Hall family.
Nearly a century later, printed sheets and cards of all qualities by other companies have become widely available in supermarkets, department stores, and independent shops. There is a wide selection of papers, boxes, bags, and trimmings. Varied products suit all tastes, and as expected, the market expands at different times of the year.
Furoshiki are traditional Japanese wrapping cloths folded in a special way around bundles of clothes and goods, and then knotted on top to adorn and protect. The art is making a resurgence as a gift-wrapping option using old or new fabric. Many types lend themselves to all sorts of celebrations. For example, hearts may be targeted for engagements, weddings, anniversaries and Valentine's Day. Of course, plainer options will be easier for the recipient to utilise again, but the coverage will always be unique.
Most will agree, recycling and upcycling are important. Some people flatten and reuse ornate papers, but removing crinkles is rarely successful, even when using an iron. Believe me, I've tried. Finding alternatives can be a money-saver and fun.
Charity shops are a great source for odd rolls of wallpaper, which will wrap many articles and earn compliments about the paper's richness when parcels are undone. Matching gift tags add a finishing touch too. There's usually a basket of haberdashery in these places as well, so with a bit of imagination, a lavish look is easily achieved with scraps of lace or ribbon.
Equally, beads from outdated jewellery look charming and luxurious when tied or glued onto small boxes.
Lots of homes have oddments of wool in their craft or knitting supplies, and when plaited and secured around wrapped items look appealing. And depending on the choice of printed paper, a Nordic style can be accomplished.
Inexpensive materials can be stunning. I once received a box of chocolates covered in a sheet of newspaper swirled with red string. Original, the effect striking, and at a low cost. Packets wrapped with brown paper, decoupaged with cut-outs, and themed to reflect the person's interests, or what is inside the present, often become a conversation point.
Material draw-string topped gift sacks are a similar idea, not so unusual, but practical and ideal for bottles and irregular shapes.
Let's not forget the old favourite, tissue paper, most becoming for babies' gifts. Frequently used are pink for a girl, or blue for a boy, although I prefer pure white.
Shades in other cultures represent different sentiments and events. For instance, red is widely valued and can wish joy or good luck, and relates to many Asian festivities, especially marriages. Whereas when teamed with dark green in the West, it is a traditional Christmas combination, although metallics and vibrant hues are trendier and often preferred these days.
I adore the pastime and had plenty of practice when I ran a gift and art shop years ago, where wrapping purchases was a popular and welcome service.
It's best to allow plenty of time to savour the task without getting in a muddle, and these days I always have scissors and sticky tape at the ready for all occasions.